About Us
BTL EPC Ltd. is one of the companies under the Shrachi Group. From a humble beginning in 1966, the conglomerate has grown and diversified its business in realms of agro machinery, real estate, engineering, stationery, and sanitation. The company's transparent policies and penchant for perfection have always satisfied shareholders and consumers alike.
For over than 25 years BTL EPC Ltd (Agro) has been catering to the requirements of small and marginal farmers in India. In all these years it has immensely contributed towards increased farm productivity and rapid mechanisation in the agrarian sector of India. The company is known to be the pioneer in introducing cost-effective power tillers in India in the early 90s. With its constant focus on improving the quality and service of its product range, the company has grown to become the leading farm machinery companies in its segment.
Lately, the company has ventured into the water, health and sanitation realm and now provides turnkey hygiene solutions and training through its aerobic bio toilet range, Ecopal. Bio-digester toilets are primarily designed to convert human excreta bio-friendly waste. BTL EPC Ltd (Agro) has been one of the key players in this segment and have gradually become the preferred choice for its users.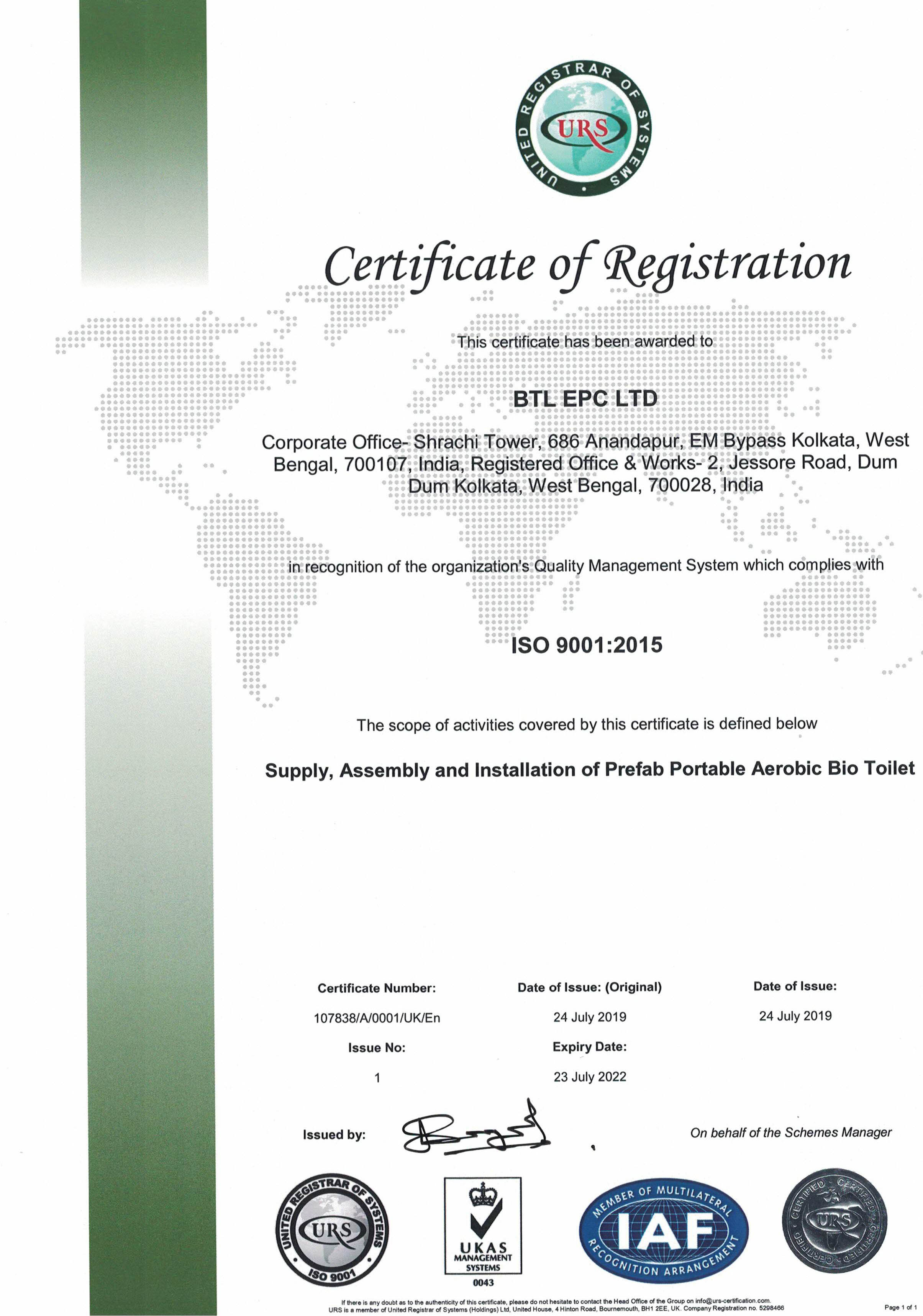 WHAT WE AIM TO DO
Our WASH concerns are about providing the following facilities
Eco-friendly Bio Toilets, called ECOPAL
Affordable water supply and purification systems
Hand-washing stations
Sanitary napkin vending machines and incinerators
Behavioural training and demand generation
Major issues that we aim to address through this initiative
Open Defecation by 60% of Indian population
Contamination of ground water leading to water-borne diseases
High mortality rate of 1000 babies per day due to Dysentery/Diarrhoea
Insufficient toilets in rural school, leading to high school drop-out - specially among girl students
Ways in which the major issues have been addressed by us
Providing 100% treatment of human waste and waste water, without manual scavenging through Bio Toilets in rural schools, slums, villages, construction sites, factory, exhibitions and more
Training and capacity building to educate the users about cultivating the habit of using eco-friendly facilities, helping them understand the importance of maintaining proper WASH standards for a cleaner and a safer world
WHY ECOPAL?
No maintenance
Ecopal is virtually maintenance free and requires much less water than conventional sanitation system. Uses Aerobic bacteria for bio digestion process.
No sewer lines
Ecopal uses bio-digester tank which eliminates the need of sewer lines. The human waste digested by Multi Strain Aerobic Bacteria
No septic tank
Since the human waste is digested within 24 hours through charging of Bio-media, there is no need of septic tank.
No manual scavenging
As there is no storage of human waste involved, so there is no septic tank and hence no need for manual scavenging, hence making this a Paler and a safer toilet.
Customisable and made to order
Pre-fab materials, light weight and hence can be made as per requirement.
Control disease
Ecopal provides 100% treatment of wastes and waste water so there is no requirement of manual scavenging and simultaneously control spread of water borne diseases like Diarrhea, Cholera, Amoebic dysentery etc.
Light weight
Ecopal is portable prefabricated units which can be relocated and reinstall thus no permanent land acquisition.
Eco-friendly
Ecopal uses quick acting Multi Strain Aerobic Bacteria which completely digest human waste within 24 hrs.
Anti-Odour
Ecopal is odour free and discharges non toxic, non pathogenic water with traces of CO2.